Building Excavation Contractor in Bangalore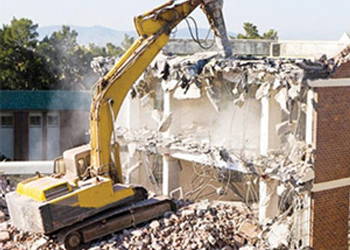 KGN Demolition provides you with the best and most highly qualified demolition contractors for the demolition of your buildings which will take care of everything for you. After a demolition project has been finished, our contractor also removes all waste and construction materials from the site. To keep other people safe, the A1 demolition firm evacuates the surrounding area and creates a perimeter. We maintain safety and are prepared to deal with crises. We cannot remove the danger, but we can certainly decrease it since we have chosen certified and skilled demolition contractors.
The majority of the buildings are 4 to 6 stories tall and require fast, safe, and economical demolition of these old depleted buildings because in today's market Builders and Developers are more time conscious and need to complete projects on time as promised to their customers to hand over their property. Residential demolition is a straightforward technique that involves physically or mechanically removing the complete structure, such as hydraulic equipment. In addition, we offer emergency demolition services. Building and industrial destruction, residential and private building demolition, and other comparable structures are all part of our services. We have specialized talents in building demolition and dismantling structures using the safest demolition procedures available.
In terms of demolition service contracts, our skilled demolition contractors offer a comprehensive solution that covers the following: enclosing the plot Building demolition with Jaw Crushers or Hydraulic Breakers Scrap goods will be salvaged, and a credit will be issued to clients. Removal of debris from the site and disposal of the same requires approval from the local Municipal Corporation for Debris Management. Foundations below ground level must be removed.
Soil excavation to the desired depth With technology at the forefront, we are always developing the most effective solutions to meet our clients' needs while keeping them under budget and on schedule. All safety precautions are followed, and these projects are executed with the utmost care and attention to detail.